The new Elmira Service Center recently opened its doors, boasting a spacious 23,500 square-foot facility that serves as a significant upgrade from its previous location in Boyne Falls, Mich. This newest service center is the last of five projects that upgraded service centers in Atlanta, Dorr, Grawn, and Reed City. The project has focused on improving the location and utility of our stations, to provide better service with improved response for members and better access for linemen, substation technicians, and I and C technician crews.
"We had basically outgrown our current service centers," said Wolverine Construction Manager, Klint Weaver. "Partly because of our growth as a company, but also because of bigger equipment and larger territories – we wanted to create state-of-the-art facilities that were more than just useful."
All new service centers, including Elmira, tackled issues with the previous service centers by integrating solutions to prior space constraints and safety issues:
New mechanic bays now expand to 16' x 16' garage doors to accommodate wide-load vehicles and/or the large transformers that can now be worked on from inside the facility.
Larger entry doors and pull-through bays help to avoid accidents from backing out of the bays – also meaning increased safety and less damage to both the building and the trucks.
Blacktop driveways to accommodate the large turning radius for semi-trucks and trailers, air and water stations in each bay, complete maintenance on digger and bucket truck booms with the ability to uncradle them inside for both the safety of team members and the protection of the vehicles and employees from the elements.
"The service stations have been designed to mirror one another, so our team members can roll into any facility and there will be a similar layout and materials thus saving them time and potential frustration," said Weaver. "It's a more streamlined process for sure. Plus, now everyone has a space to work, rather than sharing workstations. Our technicians also have their own area for programming equipment, equipment checkout, and building panels. Folks aren't trying to fix something off the corner of a bench or out of their trucks. Our team members now have adequate space to do their jobs."
In addition to improved processes and work environment, the revamped service center has natural disaster accommodations like full backup generation, cots, showers, and laundry facilities. So, in case of a tornado, extreme winds, or a massive snowstorm, like Winter Storm Elliott this past Christmas, line workers and even their families (if needed) can have a central location to eat and sleep that accommodates the nearly round the clock hours it takes to get power restored for co-op members.
The investment in the facilities and our employees has been an intentional effort to align spaces with Wolverine's values. However, the Elmira Service Center has an additional asset that looks to offer more than reliable and affordable power, but a way to positively impact the community as well. The 72-acre property butts up against a railway spur, or rail siding, that offers a direct access point to the service center and class A roads for heavy hauls. This not only makes large rail deliveries and storage much easier for Wolverine, but also acts as a potential asset to area businesses and an avenue for economic growth. Among potential third-party users, Elmira-area agricultural-related businesses have expressed interest in utilizing the rail spur location for agricultural crop storage, drying, and shipment. The acreage also allows for potential expansion and growth of other types of incoming businesses and construction companies completing work in Northern Michigan.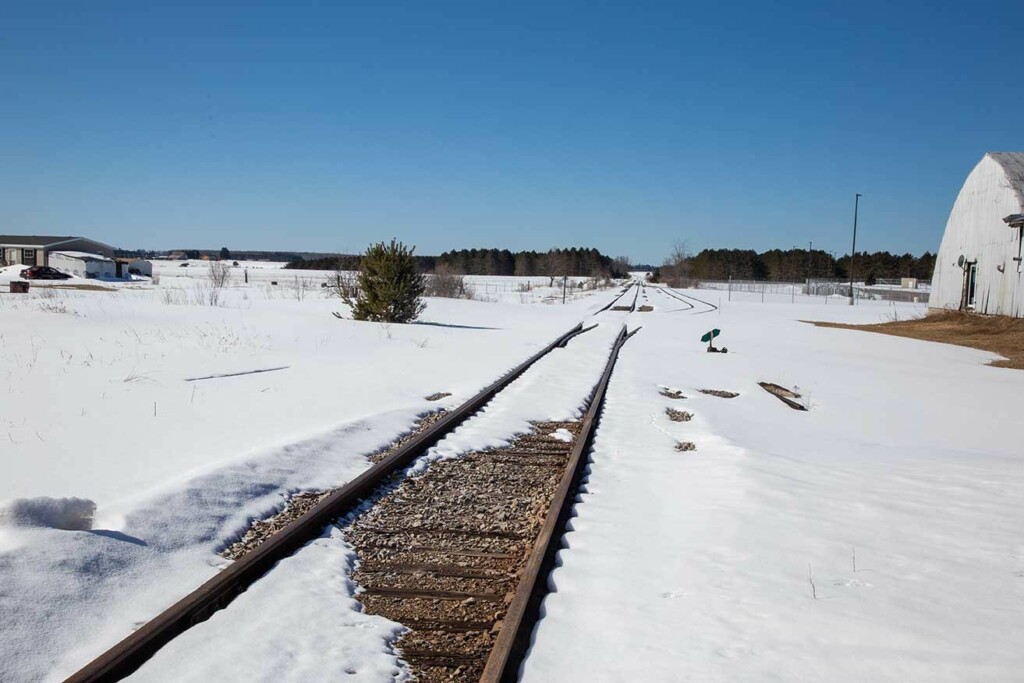 "The rail siding has the potential to receive several rail cars at one time and utilize it for the transportation of oversize loads, larger quantity deliveries, adequate laydown area, and is a more efficient shipping avenue for larger shipments of like materials," said Weaver. "That has the potential for lower freight costs for us and our members, but can also help positively impact area businesses and future Northern Michigan projects."
Weaver added, "With our collaboration, experience, and commitment to our members, Elmira has become an opportunity beyond what we could have imagined when we started."